26.03.2018
Presenting Brian Eno "Empty Formalism"
The Institute for Sound and Music is proud to present Brian Eno's "Empty Formalism." This is the first installation for the ISM Hexadome and the world premiere of Brian Eno's latest work commissioned for the ISM Hexadome at Gropius Bau in Berlin.
EMPTY FORMALISM
A few years ago I was at a painting show with a friend of mine. He was critical of the work. He said, "Well, it's just empty formalism isn't it?" I thought, "Yes, it is. And actually that's what I like—empty formalism. Like music..."
It's funny that visual art is expected to have some sort of decodable message, to be translatable into words (which is what art critics think their job is), whereas nobody expects that of music. Music has always been a completely abstract art form and nobody minds. It never had a figurative life: there was never a form of music that painted sound-pictures of landscapes or nude torsos or groups of peasants in villages.
Whereas people will say of an abstract painting "What's it meant to be? What does it mean?" they never ask the same questions about music. Music is what it is, and you either like it or you don't. You don't have to "understand it." Nobody ever said of a Roy Orbison song, or a Mozart sonata: "I don't understand it, I don't know what it's supposed to mean." It is what it is, and its "meaning"—whatever that word means—is its effect on you.
This show is a version of empty formalism. By that I mean that the work is closer to the history of music than to the history of painting or sculpture.

Brian Eno is an English musician, composer, record producer, singer, writer, and visual artist. He is best known for his pioneering work in ambient music and contributions to rock, pop, electronic, and generative music. A self-described "non-musician," Eno has helped to introduce a variety of unique conceptual approaches and recording techniques into contemporary music, advocating a methodology of "theory over practice" throughout his career.
PUBLIC OPENING
Thursday, March 29th, 6pm to 10pm
Gropius Bau, Berlin
Get Directions
ARTIST TALK
Brian Eno & Thomas Oberender
Introduction: Nicholas Meehan, ISM
Thomas Oberender, Artistic Director of the Berliner Festspiele speaks with English musician, composer, record producer, singer, artist and founding father of ambient music Brian Eno. The pair will explore topics including technology, future society, philosophy and architecture, among others. Brian Eno joins Thomas Oberender for this talk during a week long audio visual presentation entitled 'Empty Formalism' for the ISM Hexadome, hosted at the Gropius Bau.
Saturday, March 31st, 7pm - 9pm
Gropius Bau, Berlin
Get Directions | Get Tickets

INSTALLATION SCHEDULE: BRIAN ENO "EMPTY FORMALISM"
Thursday, March 29th, 6pm to 10pm
Friday, March 30th, 6pm to 10pm
Saturday, March 31st, 10am to 10pm
Sunday, April 1st, 10am to 10pm
Monday, April 2nd, 6pm to 10pm
Tuesday, April 3rd, 6pm to 10pm
Wednesday, April 4th, 6pm to 10pm
Thursday, April 5th, 6pm to 10pm
Installation Tickets available at the entrance of Martin-Gropius-Bau on the day of each showing.
Gropius Bau, Berlin
Get Directions | Facebook Event

Funded by:
German Federal Cultural Foundation, Senate Department of Culture and Europe.

Presented in collaboration with:
Pfadfinderei, ZKM | Center for Art and Media Karlsruhe, Norient, IRCAM, Deutschlandfunk Kultur.

A guest at Gropius Bau.

Official Partner:
Audi City Berlin.

Supported by:
System 180, Meyer Sound, Resolume, Squareball, Krombacher, Schweppes.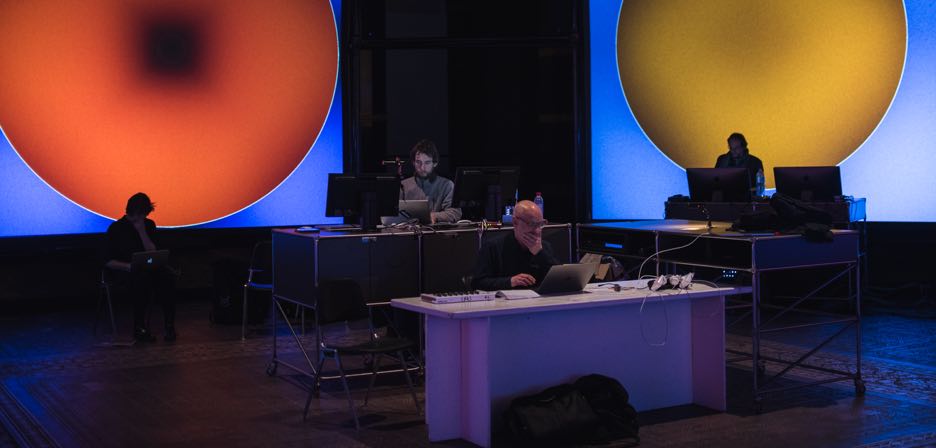 Artist Talk: Brian Eno in Conversation with Thomas Oberender
Thomas Oberender, Kurator und Intendant der Berliner Festspiele, im Gespräch mit dem englischen Musiker, Komponisten, Plattenproduzent, Sänger, Künstler und Gründungsvater der Ambient Musik Brian Eno.