21.04.2022
ISM Frequencies Episode #4 - The Radiophonic Institute
Episode 4 of ISM Frequencies takes us on a journey across the world stopping in Venice, Milan, Tehran and Yellowstone National Park to name just a few. Broadcast live on Refuge Worldwide on April 14 2022, our latest contributor was the Radiophonic Institute providing a 1 hour piece of recordings from their Radiophonic Travel Agency project.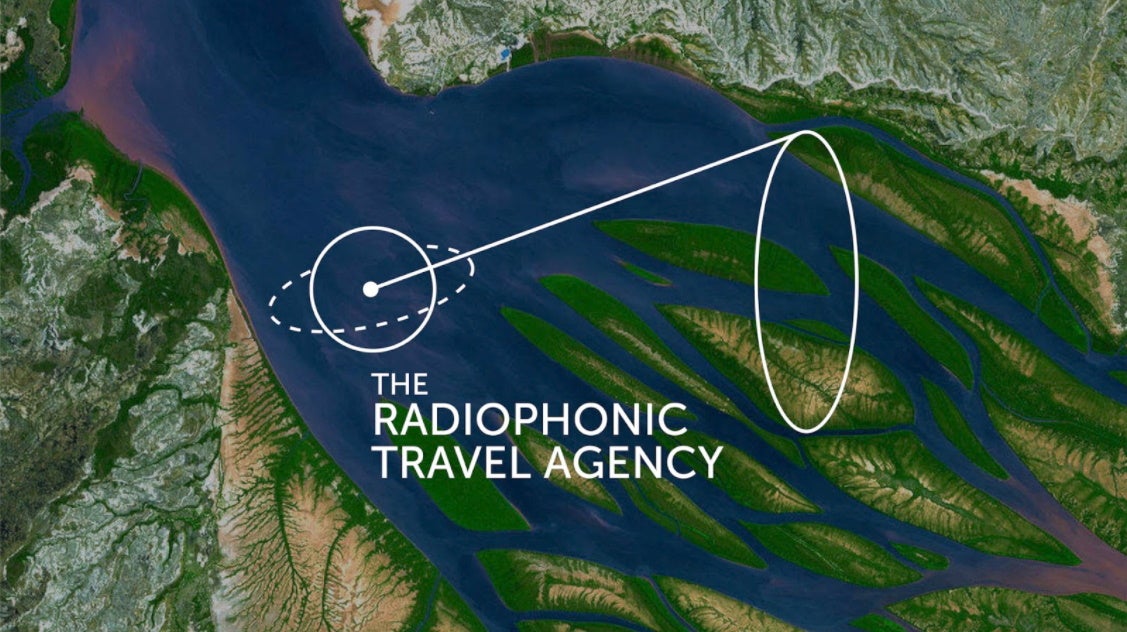 The Radiophonic Travel Agency uses sound to enable listeners to explore the whole recorded world from the safety and comfort of their home. The Travel agency exists as an interactive experience created in collaboration with BBC R&D, listeners can choose which destinations they would like to explore and how long they would like to spend in them.
Links for currently available journeys:
Original Beta version - Featured on The Today Programme, BBC R4
Forest of Dean - For Forestry England
Ramsgate - For Ramsgate Festival of Sound
Take a listen to the mix here:
About Radiophonic Institute
The Radiophonic Institute was born out of the profound legacy of the BBC Radiophonic Workshop. They are an organisation that creates, connects and champions innovation in sound and music. Led by inspirational composer, creator and curator Matthew Herbert, a key aspect of their work is to inspire and enable a new generation of diverse creative practitioners to collaborate, and to challenge the pre-existing conventions of music making and sound design. Active initiatives include The Oram Awards, The Radiophonic Travel Agency, Sound Of The Year Awards and the Museum of Sound. Their work is supported through partnerships with the PRS Foundation, BBC R&D, The Daphne Oram Trust, and is funded by Arts Council England, and a range of public and private organisations.
More info on the original Radiophonic Workshop can be found here and on Instagram and Twitter.


Tracklist
00:00 - Flight to Milan Linate Airport
00:44 - Taxi to Venice
01:00 - Gondola ride on the Grand Canal, Venice
03:08 - Campo Bandiera e Moro, Venice
04:47 - Waterfront Bars at Night, Venice
06:14 - Wooden Dock at Night, Venice
07:45 - Mercati di Rialto, Venice
09:54 - Bus to Milan
10:15 - Piazza del Duomo, Milan
11:18 - Sforzesco Castle, Milan
14:38 - Train to Milan Malpensa Airport
15:04 - Flight to Imam Khomeini International Airport, Tehran
16:04 - Underground to Grand Bazaar, Tehran
16:32 - Walk through Grand Bazaar, Tehran
19:25 - Lunch in Grand Bazaar, Tehran
21:25 - Street Music, Tehran
23:43 - Taxi to Shushtar
24:19 - Walk around Mosque at night, Shushtar
25:20 - Ancient City of Persepolis
29:38 - Flight to Salt Lake City International Airport
30:06 - Drive to Lake Village, Yellowstone National park
30:25 - Yellowstone Lake
31:03 - Canada geese Flyover, Yellowstone
31:39 - Elk Bugling, Yellowstone
32:55 - Canoe to Peele Island, Yellowstone
34:53 - Chopping Firewood outside Patrol Cabin, Yellowstone
35:28 - Wood Burning Stove inside Patrol Cabin, Yellowstone
35:58 - Morning on Peale Island, Yellowstone
36:54 - Artist Paint Pots, Yellowstone
39:25 - Anemone Geysers, Yellowstone
40:25 - Sulphide Spring, Yellowstone
41:32 - Wolves howling, Yellowstone
42:42 - Boreal Chorus Frogs, Yellowstone
44:58 - Flight to London Heathrow Airport
45:29 - Drive to Symonds Yat, Forest of Dean
46:09 - Log Cabin Viewpoint, Symonds Yat Rock
47:14 - Symonds Yat Walking Trail
49:21 - Picnic Benches, Mallards Pike
49:53 - Run around Lake, Mallards Pike
52:05 - Forest of Dean Cycle Centre Car Park
52:46 - Verderers Mountain Bike Trail Climb
54:05 - Sheepskull Downhill Mountain Bike Trail
57:05 - Crossing a Dam at Greathough Brook Beaver Site
Sound Recordist Credits
Lorenzo Dal Ri
Dan Pollard
Jilis Molenaar
Belthaczar
Jilis Molenaar
Guiseppe Aceto
BBC Sound Effects
Andy King
The National Park Service
See you for another edition of ISM Frequencies in the summer!