03.02.2022
ISM Frequencies Episode #3 - Johanna Knutsson
As we begin the new year in typical January grey fashion, episode 3 of ISM Frequencies, a radio show on sound, welcomes you to curl up and get comfy. Broadcast live on Refuge Worldwide on January 27th 2022, our latest contributor was Malmo based DJ, artist and producer Johanna Knutsson. Her hour of melancholic sounds includes the likes of Daphne Oram, Sarah Davachi, Eyvind Kang, and a track of her own released on Counterchange Recordings in 2020.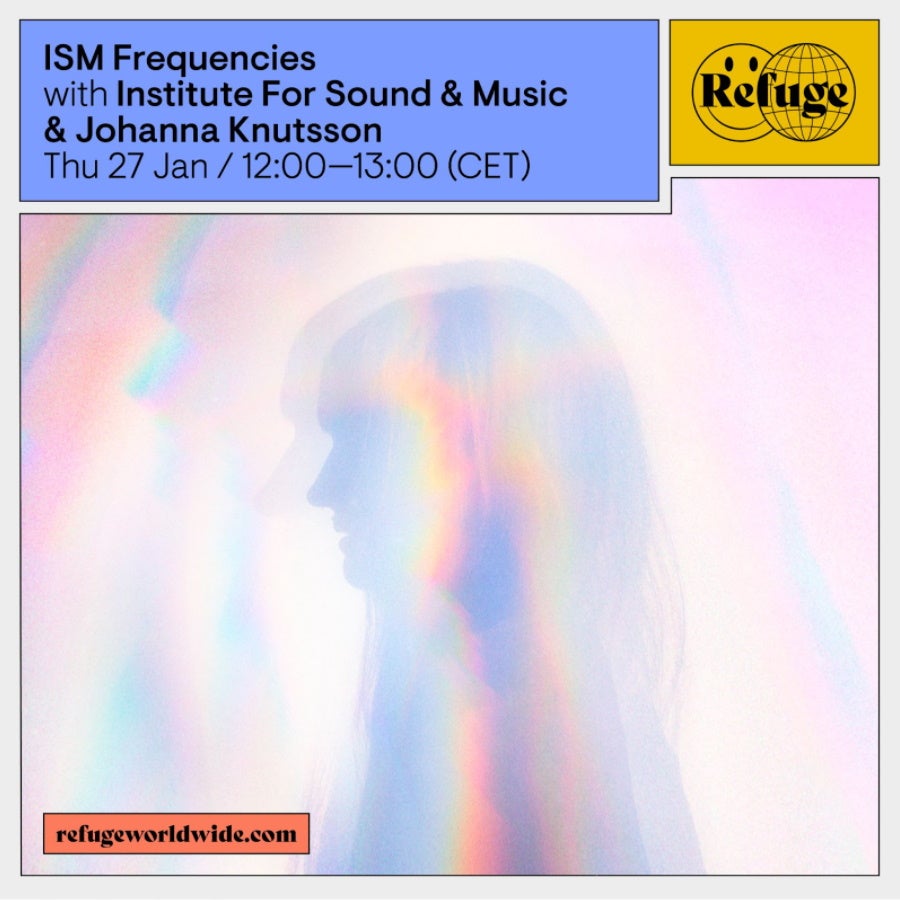 Take a listen to the mix here:
It's a musical take on thriving in darkness, a suggestion of existing in constant melancholy and at the same time feeling comforted by it. These pieces bring to mind something so familiar and safe that cannot be described, the sounds take you on a journey to a place you've never been, yet recognize. My hope is that whoever listens will have an equivalent experience. It's a tribute to what's sacred and spiritual, an interpretation of olden times if you will.
Johanna Knutsson
About Johanna Knutsson
Present and organic. Two defining words describing what kind of artist Johanna Knutsson is. It is almost like she can pick up on invisible vibrations; she sources inspiration wherever she goes, whether she is physically travelling or letting a painting or a piece of poetry transport her mind elsewhere. Could that explain why the sound of Johanna's debut album "Tollarp Transmissions" (Kontra Musik, 2019) is so perfectly distinctive? It is the sonic milieu of a fantasy story set in a small suburban Swedish town, mirrored through the wide-eyed adolescent Johanna Knutsson. Magic ambient reflecting her surroundings at the time: houses, rivers, parks, thoughts, hopes, questions and dreams. In December 2021, she was invited to a residency at Malmo's Inkonst venue in partnership with Erica Synths where she has learnt to play their eurorack module system and started on her second album, while also working on sound design for a Swedish Public Radio documentary….
Johanna publicly started expressing her love for electronic dance music in the late 00's, debuting as a DJ in Berlin's nightlife. Her DJ-sets are definitely on the emotive side of the spectrum - the foundation is techno, but from here Johanna moves around effortlessly, riding on rhythms, drums and sounds, incorporating hard-hitting house, acid, breakbeat and electro.
The mood she creates as a DJ translates seamlessly into her studio work; she has released equal amounts of techno and ambient, both existing in symbiosis since her early days of production. She has released techno records on labels such as Klasse and Oscillate Tracks (the latter is the eponymous label of ://about blank's long-running Oscillate- party where Johanna also holds a residency). When she does not perform her ambient project as a solo act, she frequently appears with renowned live-act Circle Of Live; a network consisting of roughly 20 different producers, forming a unique constellation for nearly every show. A spontaneous way of working that keeps Johanna stimulated and continuously in development.
You can find Johanna on the following platforms and sites:
SoundCloud, Bandcamp, Instagram, Resident Advisor


Tracklist
Sara Davachi - Oldgrowth
Jon Gibson - Melody IV
Daphne Oram - Purring interlude
MMMD - Grabe
Giulio Aldinucci - Venus of the Bees
Eyvind Kang -Time Medicine
Stefan Fraunberger- Bagatelle - Des Teuffels Maststau
Hypnotic Brass Ensemble - Morning Prayer
Nils Frahm - Harm Hymn
Young HuntingSpiritual Abandonment
Eomac - Prayer Pt1
O morto - The Spirits
Sarah Davachi - Waking
Spite Cathedra l - Dissmissive Avoidiant
Johanna Knutsson - Synthsakral
Anna von Hausswolff - Dolore di Orsini
See you for another edition of ISM Frequencies in the early Spring!