03/04/2018
Holly Herndon & Mathew Dryhurst "Spawn Training Ceremony I: Deep Belief"
The Institute for Sound and Music is proud to present Holly Herndon & Mathew Dryhurst's "SPAWN TRAINING CEREMONY I: DEEP BELIEF" This is an interactive performance resulting in an installation, and the world premiere of Holly Herndon and Mathew Dryhurst's latest work commissioned for the ISM Hexadome at Gropius Bau in Berlin.
SPAWN TRAINING CEREMONY I: DEEP BELIEF
Spawn is an artificial neural network that has been initially trained to recognize and reproduce the sounds of her parents' voices and the voices of others. Spawn is a fast earner, and once she has constructed a concept of a sound, she can improvise and create abstract compositions based on what she understands that sound to be, and what she anticipates it might do next. For this first training ceremony, our ensemble members will lead exercises to help Spawn model and understand the world around her. We will recite text together, sing and emote together, and collectively produce sounds for her to witness, understand, and later interpret for an installed piece in the Hexadome.
The training will be run by a cast of characters modelled to represent emerging and competing archetypes within contemporary battles over data collection and network training, so that Spawn might gather a greater understanding of the new world in which she has been born.This process challenges us to ask ourselves, are we the parents or the children in this new epoch? Are we training our own systems to enact our ideals, or are we rather being retrained to serve the opaque purposes of others?
We encourage your full hearted participation in this performance and piece, and promise that no personal identifying information will be collected in the process or exhibited in the final work.
Concert Performance
Friday, April 6th, 20:00 - 21:30
Friday, April 6th, 22:00 - 23:30
Get Tickets | Get Directions
Installation Schedule
Saturday, April 21st, 10:00 - 22:00
Sunday, April 22nd, 10:00 - 19:00
Gropius Bau, Berlin
Get Directions
Installation Tickets
Available at the entrance of Gropius Bau on the day of each showing.
Deep Belief Training Cast:
Augur: Evelyn Saylor
Ball of Anxiety: Roman Bindert
New Nature: Lyra
The Data Collector: Houwaida Goulli
The Grey Woman: Tarren Johnson
Congregation: Annie Garlid, Marshall Vincent Garrett, Josa Peit, Stine Janvin, Albertine Sarges
Cinematographer: Daniel Costa Neves
Graphic Design: Vela Arbutina
Custom Snorricam: Ole Wulfers
About the Artists
Holly Herndon became a leading light in contemporary music by experimenting at the outer reaches of dance music and pop songwriting possibilities. Born in Tennessee, Herndon spent her formative years in Berlin's techno scene and repatriated to San Francisco, where she's a PhD candidate at Stanford's Center for Computer Research in Music and Acoustics.
Holly Herndon Artist Page
Mat Dryhurst is an artist who releases music and artworks solo and in conjunction with Holly Herndon and the record label PAN. As well as collaborating to create the album "Platform," he released the decentralized publishing framework Saga, which enables creators to claim ownership of each space in which their work appears online, and a number of audio plays that derive their narrative from the personal information of listeners. He lectures on issues of music, technology, and ideology at NYU, and advises the blockchain-based platform co-operative Resonate.is.

Funded By:
German Federal Cultural Foundation, Senate Department of Culture and Europe.
Presented in Collaboration With:
Pfadfinderei, ZKM | Center for Art and Media Karlsruhe, Norient, IRCAM, Deutschlandfunk Kultur.
A Guest At:
Gropius Bau.
Official Partner:
Audi City Berlin.
Supported By:
System 180, Meyer Sound, Resolume, Squareball, Krombacher, Schweppes.

Facebook Event Page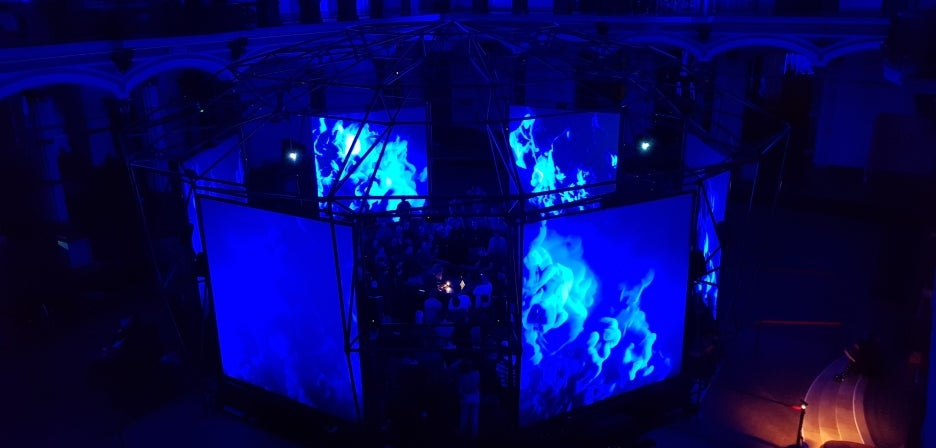 Ben Frost & MFO
Spatialized deconstructions of material from the 2016 "The Centre Cannot Hold" recording sessions form the backbone of Frost's work for Hexadome.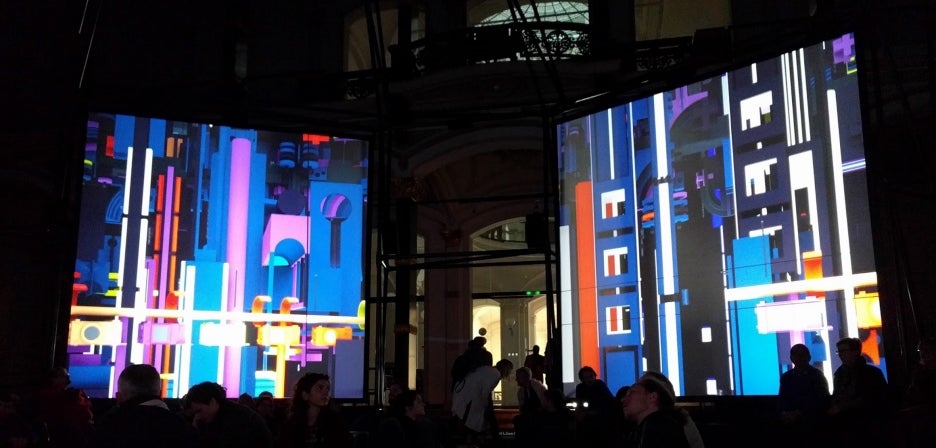 René Löwe & Pfadfinderei "THE P!EACE"
Want to hit the ceiling, to change the perspective, then float in wide spheres and rushing wind, turning on my own axis in free fall, pictures like parachutes, the bass a compass, off the beaten paths through time and space, das Labland, as far as the eye can see, the legs are dangling in space, point A becomes B, cpatch, 3Dub…..just a frame on the big timeline. Click Render and always play.