03/04/2018
Tarik Barri & Thom Yorke "CITY RATS"
The Institute for Sound and Music is proud to present the latest work of Tarik Barri collaborating with Thom Yorke within "Versum" a 3-dimensional audio visual universe created by Tarik Barri. This work is unlike anything seen from Thom Yorke, and the collaboration between both artists will premiere as a complete immersive flight through this world in the ISM Hexadome.
CITY RATS
INSTALLATION by Tarik Barri & Thom Yorke
PRESENTATION by Tarik Barri

Tarik Barri presents a composition created in collaboration with Thom Yorke. Inside the virtual 3D universe of Barri's self-programmed "Versum" software, all that is heard can be seen, and all that is seen may be heard. Looped and distorted video fragments of Yorke's singing are scattered all around, forming, moving, and changing patterns. Twitching and pulsating, they fill the space with unfamiliar sounds and sights.
The audience is taken on a flight exploring this universe in audiovisual surround, as their path determines the melodies and atmospheres they will encounter. The experience combines elements of music and cinema, but at its core is a different entity altogether.

Tarik Barri is an audiovisual composer in the sense that his compositions always concern the combination of audio and visuals. During his study in music and technology, he came to realize that the same type of programming he used to write musical applications could be used to create moving images. He has since focused on developing and using his real-time audiovisual software "Versum" for the sole purpose of discovering and expressing new kinds of aesthetics that can be found in the interrelations between seeing and hearing.
Tarik Barri Website

Thom Yorke's work, both as principal songwriter, singer, and multi-instrumentalist in Radiohead and as a solo artist, has placed him at the forefront of global contemporary music. Over time he's shown an enduring commitment to exploring the aesthetical and technical forefronts of his field.
Thom Yorke on Twitter
Radiohead Website

PRESENTATION SCHEDULE TARIK BARRI
CITY RATS
Friday, April 6th, 20:00 - 21:30
Friday, April 6th, 22:00 - 23:30
GET TICKETS | GET DIRECTIONS

INSTALLATION SCHEDULE TARIK BARRI and THOM YORKE
CITY RATS
Saturday, April 7th: 10:00 - 22:00
Sunday, April 8th: 10:00 - 22:00
GET DIRECTIONS

Installation Tickets available at the entrance of Gropius Bau on the day of each showing.

Full Event Schedule Details:
ISM Hexadome at Gropius Bau

Follow ISM Hexadome on
Twitter: @ismhexadome
Instagram: @ismhexadome
#ismhexadome #gropiusbau

Funded By:
German Federal Cultural Foundation, Senate Department of Culture and Europe.

Presented in Collaboration With:
Pfadfinderei, ZKM | Center for Art and Media Karlsruhe, Norient, IRCAM, Deutschlandfunk Kultur.

A Guest At
Gropius Bau.

Official Partner:
Audi City Berlin.

Supported By:
System 180, Meyer Sound, Resolume, Squareball, Krombacher, Schweppes.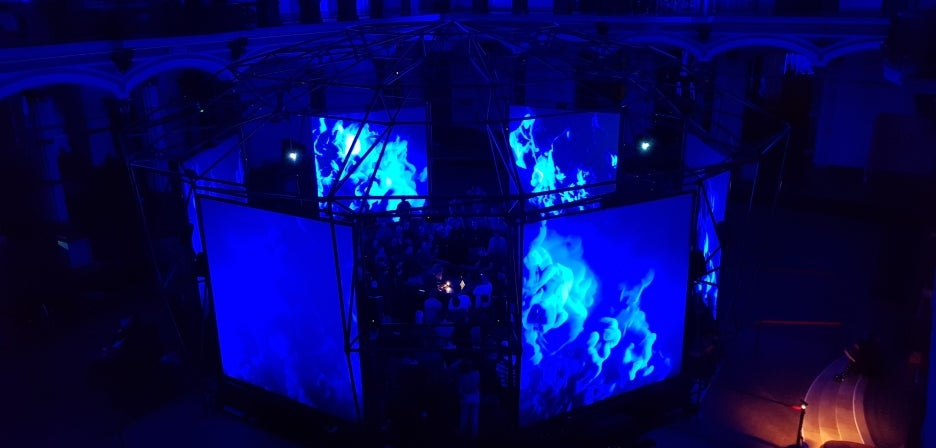 Ben Frost & MFO
Spatialized deconstructions of material from the 2016 "The Centre Cannot Hold" recording sessions form the backbone of Frost's work for Hexadome.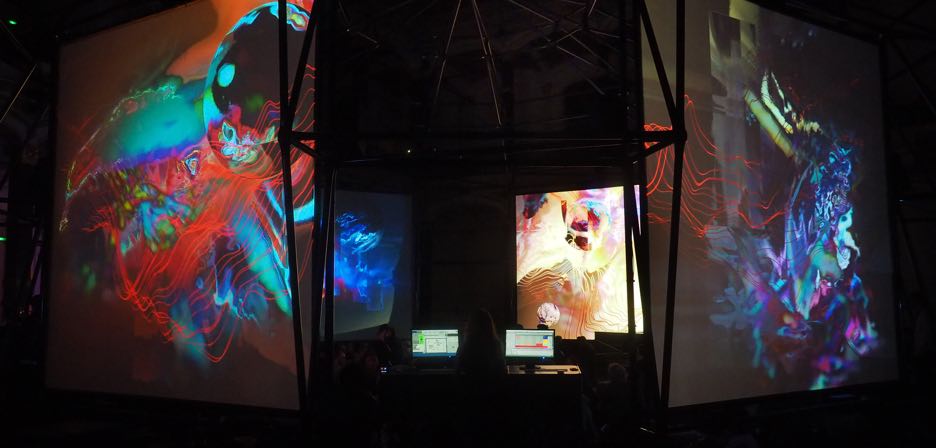 Lara Sarkissian & Jemma Woolmore
Sound artist Lara Sarkissian and video artist Jemma Woolmore approach the ISM Hexadome installation as a transsensorial space for storytelling on topics of territory, recognition, and memory.