27/03/2018
Artist Talk: Brian Eno in Conversation with Thomas Oberender
Saturday, March 31st, 2018, 7.00 PM
Gropius Bau, Berlin
Get Directions
Thomas Oberender, Curator and Artistic Director of the Berliner Festspiele speaks with English musician, composer, record producer, singer, artist and founding father of ambient music Brian Eno. The pair will explore topics including technology, future society, philosophy and architecture, among others. Brian Eno joins Thomas Oberender for this talk during a weeklong audiovisual presentation entitled 'Empty Formalism' for the ISM Hexadome, hosted at the Gropius Bau.
Tickets for the Conversation between Brian Eno and Thomas Oberender are available via the Berliner Festspiele ticket shop.
Please note that space is limited.
ISM Hexadome Exhibition
The ISM Hexadome is an immersive 360° audiovisual exhibition combining art and technology. It is the first step in the Institute for Sound & Music's initiative to build an institution in recognition of sound, immersive art, and electronic music culture. The ISM Hexadome is comprised of a visual projection architecture designed by Berlin digital media studio, Pfadfinderei, and the 'Klangdom', an advanced multi-channel speaker configuration created by ZKM | Institute for Music and Acoustics. The Klangdom is controlled by the software Zirkonium developed by ZKM and 3D audio mixing software Panoramix developed by IRCAM's STMS Research Lab. The ISM Hexadome exhibition in Berlin features nine audiovisual performances and installations from international artists, seven works curated by the ISM, with two additional works curated by Norient, Network for Local and Global Sounds and Media Culture. The ISM Hexadome will premiere at the Gropius Bau in Berlin from March 29th to April 22nd, 2018 before traveling throughout Europe and North America.
Funded by:
German Federal Cultural Foundation, Senate Department of Culture and Europe.

Presented in collaboration with:
Pfadfinderei, ZKM | Center for Art and Media Karlsruhe, Norient, IRCAM, Deutschlandfunk Kultur.

A guest at Gropius Bau.

Official Partner:
Audi City Berlin.

Supported by:
System 180, Meyer Sound, Resolume, Squareball, Krombacher, Schweppes.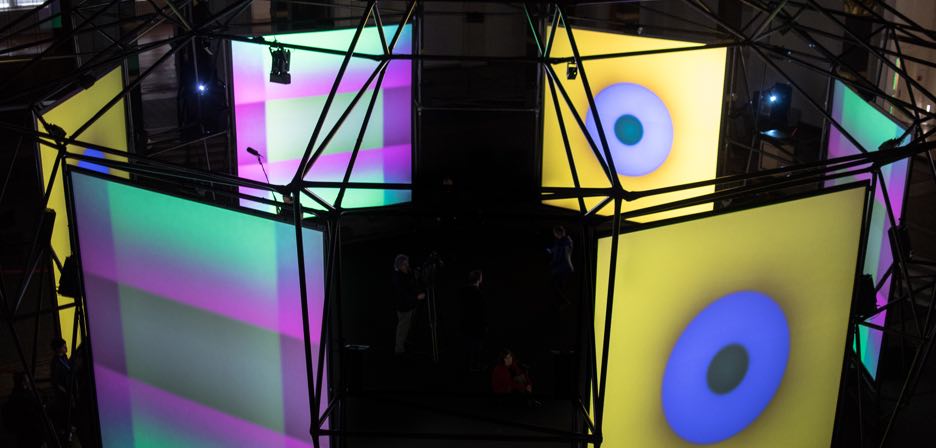 Presenting Brian Eno "Empty Formalism"
The first installation for the ISM Hexadome and world premiere of "Empty Formalism," the latest work by Brian Eno.