22/09/2022
ISM Frequencies Episode #5 - Le Guess Who?
Episode 5 of ISM Frequencies introduces us to some of the impressive line up scheduled for Le Guess Who? Festival 2022. Featuring Laurel Halo, Abdullah Ibrahim, Huerco S., Trees Speak, Batu and Nancy Mounir, to name just a few, this is a wide ranging mix of artists from all over the world but still a mix with a mood - essentially slow and calming.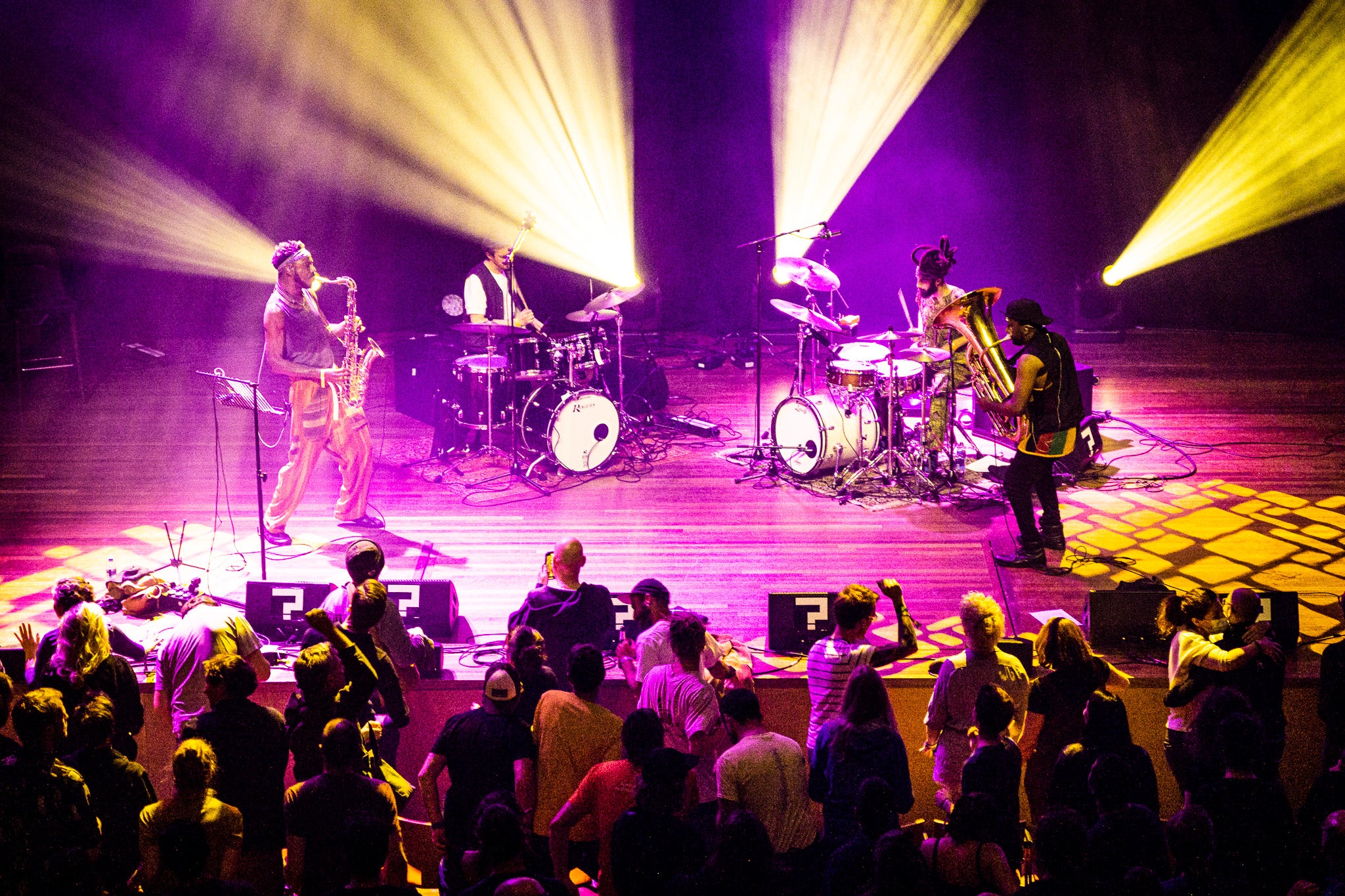 Photo by Jelmer de Haas - Sons of Kemet Live LGW21
What makes Le Guess Who? such an impressive festival is the care they give to relatively unknown acts and how they invite artists to contribute to curation. This year Animal Collective, Curl Records, clipping., Ostinato Records and Hidden Musics have all provided some amazing suggestions to the weekend line up.
In their own words the team at Le Guess Who? said about the mix:
'Le Guess Who? is a deep well, filled with sound. Every November, around 150 acts from all over the globe are gathered in Utrecht. Most acts are still underrepresented & unknown to most audiences. The more exciting & important it is to introduce these artists to you. For ISM Frequencies we aimed for a slow, peaceful and transcendental hour of music. Floating electronic waves, faded jazz and haunting vocals. All artists included here will perform at Le Guess Who? this year, happening during the weekend of 10-13 November.
Take a listen to the mix here:
About Le Guess Who?
Le Guess Who? is a Celebration of Sound in Utrecht, The Netherlands. As one of the most forward-thinking festivals, Le Guess Who? returns 10-13 November 2022 for its 15th Anniversary Edition. Dedicated to boundary-crossing music & culture from all over the world, Le Guess Who? platforms underrepresented sounds that are rarely heard in other places; sounds that have the power to enrich lives.
​​​​Across four days Le Guess Who? takes over the entire city center of Utrecht, with over 150 artists performing in pop venues, theaters, churches, warehouses, and clubs. U? is the participative and freely accessible day program of Le Guess Who?, created for and with the city of Utrecht. COSMOS is our hybrid platform, which translates the festival's mission to an online environment.
Throughout the years, Le Guess Who? has grown to become a leading international festival, known for its unparalleled presentation of genre-challenging music. In 2021, visitors from 39 different countries travelled to Utrecht in November to attend the festival.


Previous Le Gues Who? Curators:
2021: John Dwyer, Lucrecia Dalt, Midori Takada, Matana Roberts, and Phil Elverum
2019: Fatoumata Diawara, Iris van Herpen & Salvador Breed, Jenny Hval, Patrick Higgins, The Bug, and Moon Duo
2018: Devendra Banhart, Shabaka Hutchings, and Moor Mother
2017: Perfume Genius, James Holden, Grouper, Shabazz Palaces, Jerusalem In My Heart, and Han Bennink
2016: Wilco, Savages, Julia Holter, and Suuns
2015: Sunn O)))
2014: Michael Gira (Swans)
2013: Ty Segall
More info on the festival can be found here and on Instagram and Twitter.
Tracklist
Jolanda Moletta - Spell I: Let The Waves In
The Jonny Halifax Invocation - Lake On Fire
Divide and Dissolve - Did You Have Something To Do With It
Huerco S. - Plonk VII
Hinako Omori - A Journey
Flore Laurentienne - Navigation IV
Trees Speak - Cybernetic Dream
Batu - Mineral Veins
Jana Rush - Painful Enlightenment
Bohren & Der Club Of Gore - Prowler
Abdullah Ibrahim - Blue Bolero
Dienne - Addio
Hatis Noit - Angelus Novus
Nancy Mounir - Gannentini
chamæleon - leaving
Jeff Parker - Four Folks
Laurel Halo - Dr Echt
Leoni Leoni - I'm out of this 1
Flore Laurentienne - Fleuve No.1
Artist links
Bohren and Der Club of Gore
Abdullah Ibrahim
Chamæleon
@specialgreetingsfromleonileoni
Preview Image Credit: Melanie Marsman