16/04/2019
ISM Hexadome North America Premiere
The Institute for Sound & Music is proud to announce the US premiere of the ISM Hexadome installation in partnership with Gray Area Festival at the historic Pier 70 location in San Francisco from July 25th through August 4th.
The ISM Hexadome has been selected to travel to the United States as part of the "Wunderbar Together" initiative, celebrating a year of German - American friendship. Wunderbar Together is funded by the German Federal Foreign Office, implemented by the Goethe-Institut and supported by the Federation of German Industries.
Says Mr. Andreas Goergen, Head of the Culture and Communications department at the Foreign Office: "Projects like the ISM Hexadome are important Ambassadors for the Wunderbar Together Initiative. They show us how international cultural co-production boosts creativity, diversity and innovation."
I'm very happy. I feel like Sleeping Beauty. I went to sleep for 40 years and when I woke up, the world suddenly was all I ever dreamed of.
Suzanne Ciani, Under the Electric Sea, ISM Hexadome
The ISM Hexadome will feature the US debut of nine immersive installations, including exclusive live concert performances and world premiere of Suzanne Ciani's Under the Electric Sea, commissioned and created in Berlin for the ISM Hexadome together with French visual artist AudeRrose.
The whole principle of my work is inherently built around this idea of being surrounded by space and surrounded by sound. The system that the ISM set up just enables me to really show it in exactly that way.
Tarik Barri on "City Rats" ISM Hexadome piece featuring Thom Yorke
About the ISM Hexadome
The ISM Hexadome is an immersive 360° audiovisual installation combining cutting-edge art and technology. It is the first step in the Institute for Sound & Music's initiative to build a museum in recognition of sound, immersive arts, and electronic music culture. The 'Klangdom', an advanced multi-channel speaker configuration created by ZKM | Institute for Music and Acoustics is hosted within with a visual projection architecture designed by digital media studio, Pfadfinderei and the speakers themselves are built by Meyer Sound. The Klangdom utilizes 3D spatialization software Zirkonium developed by ZKM | Center for Art and Media in Karlsruhe, Germany and Panoramix developed by IRCAM's STMS research lab in Paris, France.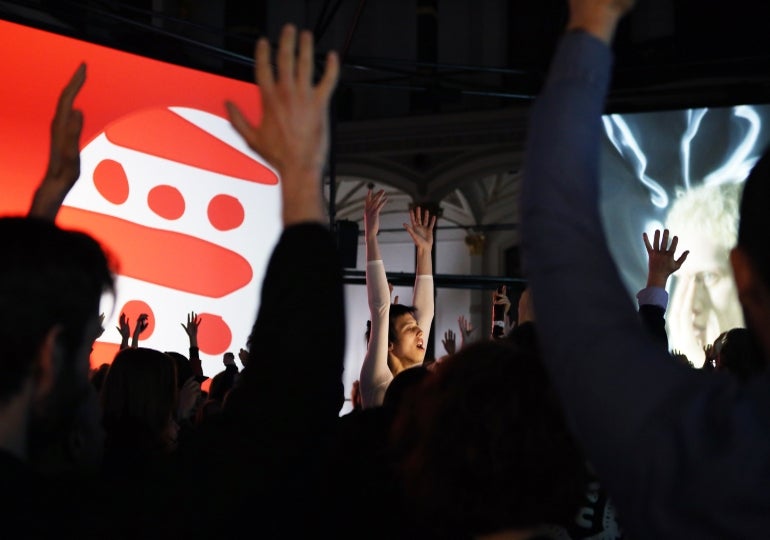 Holly Herndon & Mathew Dryhurst - SPAWN TRAINING CEREMONY I DEEP BELIEF
Photo credit: Giovanni Dominice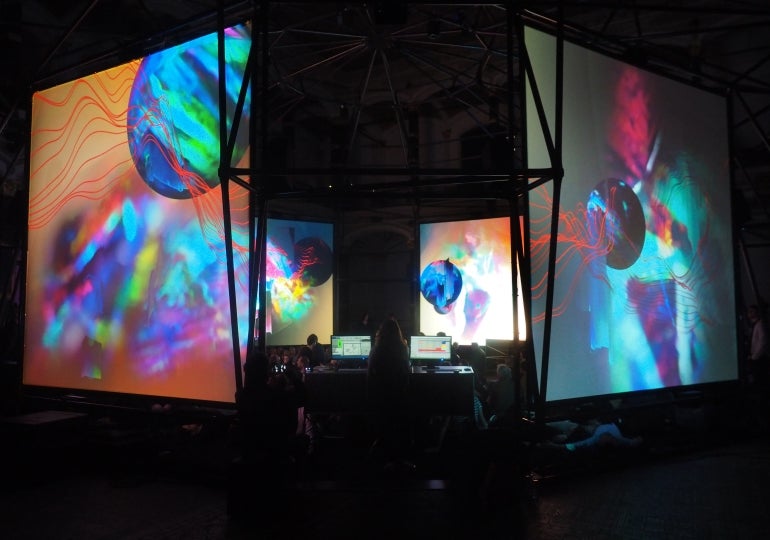 Lara Sarkissian & Jemma Woolmore - THRESHOLDS
Photo credit: Giovanni Dominice
About the Institute for Sound and Music | ISM Berlin
The Institute for Sound and Music is a Berlin-based non-profit organization dedicated to the culture of Sound, Immersive Art and Music. Presently, the ISM is raising support and awareness for its ultimate goal to establish a new and permanent home for a cutting-edge museum experience in Berlin, through a series of three global touring exhibitions.
Selected Artists
Suzanne Ciani & AudeRrose
Ben Frost and MFO
CAO and Michael Tan
Holly Herndon & Mathew Dryhurst
Frank Bretschneider & Pierce Warnecke
Lara Sarkissian and Jemma Woolmore
Peter Van Hoesen and Heleen Blanken
René Löwe & Pfadfinderei
Tarik Barri and Thom Yorke
Suzanne Ciani & AudeRrose
UNDER THE ELECTRIC SEA
Suzanne is a five-time Grammy award nominated composer, electronic music pioneer, and neo-classical recording artist whose work has been featured in countless commercials, video games, and feature films. Over the course of her 40+ year career, she's released 16 solo albums, including "Seven Waves," "The Velocity of Love," and most recently, her comeback quadraphonic Buchla modular synth performance recording "LIVE Quadraphonic." She's been recognized as Keyboard Magazine's "New Age Keyboardist of the Year," provided the voice and sounds for Bally's groundbreaking "Xenon" pinball machine, created Coca-Cola's pop-and-pour sound, designed Atari's sound logo, played concerts all over the globe, and carved out a niche as one of the most creatively successful female composers in the world. A Life in Waves, a documentary about Ciani's life and work, debuted at SXSW and is available to watch on all digital platforms.
AudeRrose is multi-disciplinary artist working with performance, photography, sound and projection. In the past years she produced a collection of photographic prints using alternative technics like photograms, chemigram, cyanotype and lumen prints. The result of her work are series of organic motives declined in a serial collection, exploring the expanded possibilities of printing with paper, sun, chemical reactions, revisiting the avant-garde technics of the pioneers of experimental photography.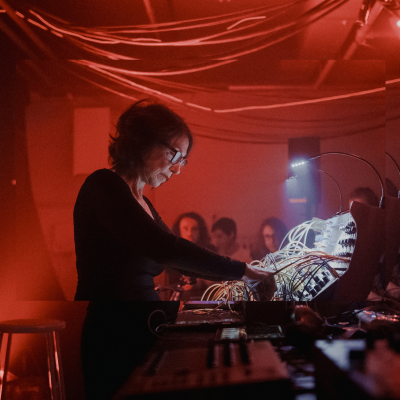 Suzanne Ciani
Photo courtesy of Suzanne Ciani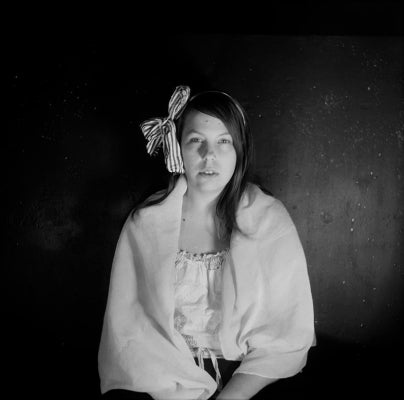 AudeRrose
Photo courtesy of AudeRrose
Ben Frost and MFO
Spatialized deconstructions of material from the 2016 "The Centre Cannot Hold" recording sessions form the backbone of Frost's work for Hexadome. The piece is a document of an event, of a room, and of the composer within it. It is music that is not fully controlled and appears to be anxiously, often violently competing against its creator.
Born in 1980 in Melbourne, Australia, Ben Frost relocated to Reykjavík, Iceland, in 2005. Working closely with friends Valgeir Sigurðsson and Nico Muhly, he formed the Bedroom Community record label/collective.
Frost's work juxtaposes music, rhythm, technology, the body, performance, text, art, beauty, and violence, combining and coalescing the roles and procedures of various artistic disciplines.
Marcel Weber is a visual artist who works with imagery, light and space. He has been directing and producing audiovisual performances, stage designs, video works and installations since 2001. Weber's performances are concerned with memory and perception, identity formation and dissolution – particularly in the context of possible futures and their underlying mythologies.
His work is marked by a well-defined and distinctive aesthetic, using images that both resonate with and form a relationship to sound. Applying to visuals the musical language, with its ability to shape emotional worlds, an ethereal quality emerges, brought to life by his passion for experimental narratives.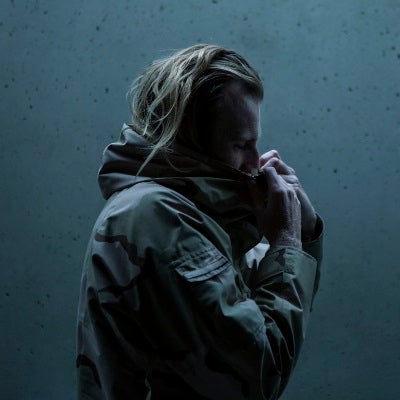 Ben Frost
Photo credit: Salar Kheradpejouh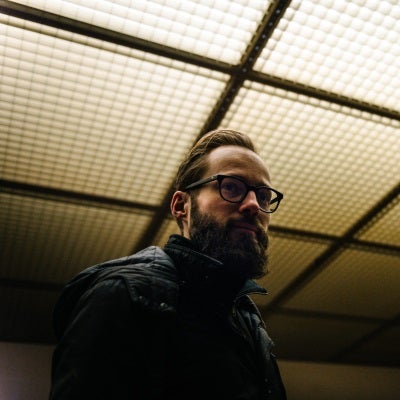 MFO
Photo courtesy of MFO
CAO and Michael Tan
THE BURIAL THEME: TRANS-MATTER PORT AND OBJECTS
Inspired by ancient Moche iconography and cosmology, the work explores the dualities of life/death, generation/destruction, and cohesion/dispersion cycles and how they appear as two planes constantly transposed onto one another. The Moche cosmology envisioned certain gates that render the intersections of both planes as a space for events. One of these might be considered the ceremonial or ritual space, a realm in which the distance and division between both worlds would blur.
The work aims to explore the ceremonial object both in its native context and as an "unearthed object," expressing its connection with both ancient narratives and the transience and decay that operate in the natural world. This object, usually presented as a recipient, acts as a gate or a threshold, a geometrical key, and signifies generative space and the readiness preparatory to a transfer between worlds (living/dead, vision/blindness, sacred/profane, etc.).
Michael Tan was born in Whyalla, Australia, and now lives and works in Berlin. His work explores social and political issues, and their relationship to pop culture using digital works, 3D rendered and real-time images for video, animation, and installation.
Constanza Bizraelli aka CAO is a Peruvian electronic music composer and producer, artist, and theorist. She is the director and editor-in-chief of Cyclops Journal, an academic publication dedicated to contemporary theory, theory of religion, and experimental theory.
CAO
Photo courtesy of CAO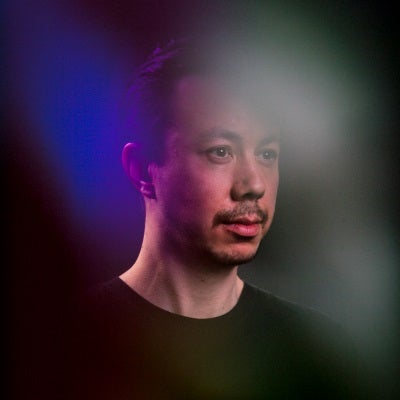 Michael Tan
Photo credit: Stini Roehrs
Frank Bretschneider & Pierce Warnecke
APPROXIMATE ACCURACY
Approximate Accuracy is a hybrid audio-visual installation/performance especially designed for the ISM Hexadome that borrows from modular sound and visual synthesis techniques, adapting them with contemporary analog and digital tools.
The audio uses modular synthesizer patches manipulated live: A matrix of oscillators interact with each other to produce a variety of sounds, from delicate, subtle sequences to rough walls of noise. The imagery is based on digital emulations of modular video synthesis. Simple lines and noise-based textures combine to form dynamic patterns and complex synesthetic moirés. Combining algorithmic generation and audio-driven interaction, vertical bar-based elements overlap to create dense and abstract fields that encourage viewers to explore the real and perceived sense of synchronization between sound and image.
Frank Bretschneider is a musician, composer, and video artist in Berlin. His work is known for precise sound placement, complex, interwoven rhythm structures, and its minimal, flowing approach.
Pierce Warnecke is a sound and video artist from the US, based in Europe for over a decade. He works in both the sonic and visual domains via performances, installations, and compositions.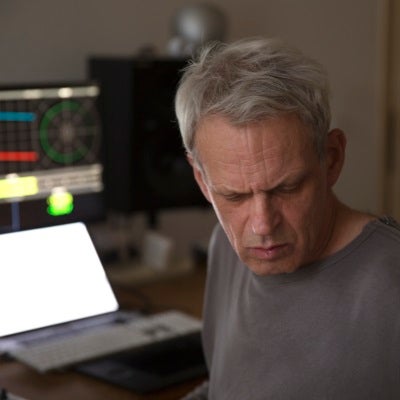 Frank Bretschneider
Photo credit: Sylvia_Steinhaeuser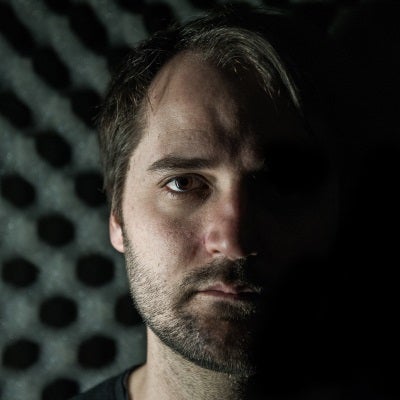 Pierce Warnecke
Photo courtesy of Pierce Warnecke
Lara Sarkissian and Jemma Woolmore
THRESHOLDS
Sound artist Lara Sarkissian and video artist Jemma Woolmore approach the ISM Hexadome installation as a transsensorial space for storytelling on topics of territory, recognition, and memory.
Lara Sarkissian's work is an ambient electronic landscape referencing Armenian music, field recordings, and churches (both in their sonic and physical form). The musical score collages elements of voices, literature, hymns, and instruments, holding a space for modern-day Armenian narratives tied to displacement, both past and present.
Jemma Woolmore's visuals explore the fragile boundary between utopia and dystopia. The Hexadome screens become a landscape to be navigated and divided, creating symbolic borders that are enforced, blurred, or dissolved throughout the work.
As histories and regions are constantly rewritten or destroyed there is an urgency to produce counternarratives and highlight cultural voices often left out. This installation is a celebration of resilience and space for these stories.
Jemma Woolmore is a Berlin-based video artist. Blurring the boundaries between real and virtual, Jemma's work explores the spatial and emotional possibilities of light and image in performative environments. Spanning audio-visual performance, installation, and bespoke visual and sculptural design, her work shows a strong sensitivity for combining light, sound, and structure.
Lara Sarkissian is a composer, DJ (FOOZOOL) and filmmaker. She is co-founder of CLUB CHAI in the Bay Area; a record label, event series, and curatorial project that artistically hybridizes non-western sounds with electronic music. Lara Sarkissian's electronic music weaves in experimental sound design, approaches, storytelling and has roots to her visual work. She scores for films and audiovisual installations.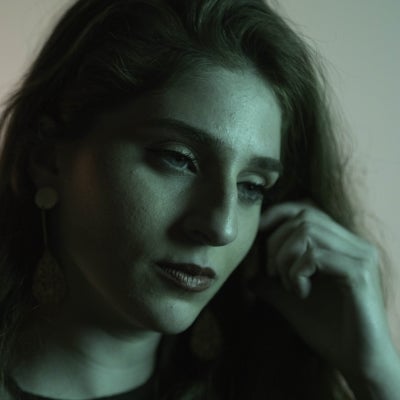 Lara Sarkissian
Photo credit: Greg Nemet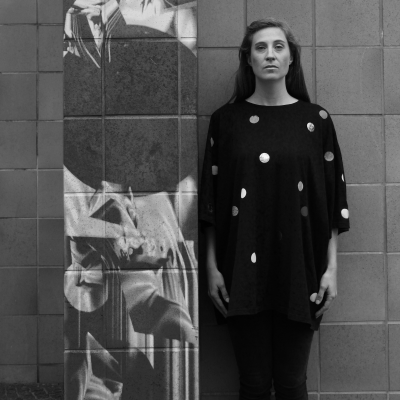 Jemma Woolmore
Photo courtesy of Jemma Woolmore
Holly Herndon & Mathew Dryhurst
SPAWN TRAINING CEREMONY I: DEEP BELIEF
Spawn is an artificial neural network that has been initially trained to recognize and reproduce the sounds of her parents' voices and the voices of others. Spawn is a fast learner, and once she has constructed a concept of a sound, she can improvise and create abstract compositions based on what she understands that sound to be, and what she anticipates it might do next.
For this first training ceremony, our ensemble members will lead exercises to help Spawn model and understand the world around her. We will recite text together, sing and emote together, and collectively produce sounds for her to witness, understand, and later interpret for an installed piece in the Hexadome.
The training will be run by a cast of characters modelled to represent emerging and competing archetypes within contemporary battles over data collection and network training, so that Spawn might gather a greater understanding of the new world in which she has been born.
This process challenges us to ask ourselves, are we the parents or the children in this new epoch? Are we training our own systems to enact our ideals, or are we rather being retrained to serve the opaque purposes of others?
We encourage your full hearted participation in this performance and piece, and promise that no personal identifying information will be collected in the process or exhibited in the final work.
Holly Herndon became a leading light in contemporary music by experimenting at the outer reaches of dance music and pop songwriting possibilities. Born in Tennessee, Herndon spent her formative years in Berlin's techno scene and repatriated to San Francisco, where she's a PhD candidate at Stanford's Center for Computer Research in Music and Acoustics.
Mat Dryhurst is an artist who releases music and artworks solo and in conjunction with Holly Herndon and the record label PAN. As well as collaborating to create the album "Platform," he released the decentralized publishing framework Saga, which enables creators to claim ownership of each space in which their work appears online, and a number of audio plays that derive their narrative from the personal information of listeners. He lectures on issues of music, technology, and ideology at NYU, and advises the blockchain-based platform co-operative Resonate.is.
Holly Herndon
Photo credit: Bennet Perez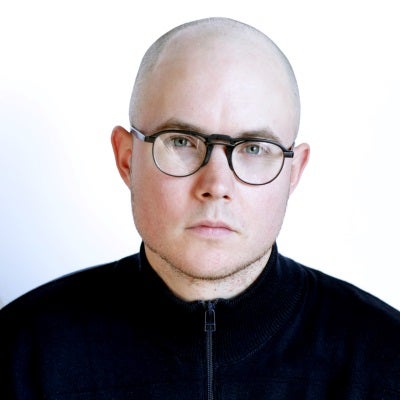 Mathew Dryhurst
Photo courtesy of Mathew Dryhurst
Peter Van Hoesen and Heleen Blanken
ADAPTIVE ENQUIRY No. 1
This work focuses on the cause and effect of resonance. It deals with the friction between two elements, searching for the observable space in between. The visual part of this work will be created in close collaboration with the Institute for Geosciences at the Utrecht University.
Peter van Hoesen is a Belgian electronic music producer, composer, DJ, live performer, and a key player in the Brussels electronic music scene. He has produced various styles of music but is best known for his bass-heavy, abstract take on techno with a psychedelic approach. He has developed a deep interest in surround-sound composition and spatial sound design.
Heleen Blanken is a visual artist living and working in Amsterdam. She works in cinematography, photography, and installation art. She holds a bachelor in fine art degree from the Gerrit Rietveld Academy in Amsterdam. In her work, she explores the different layers of our aesthetic perception of the natural world and collects images that she transforms into new constellations, defying traditional artistic dichotomies like the organic vs. artificial, or analogue vs. digital.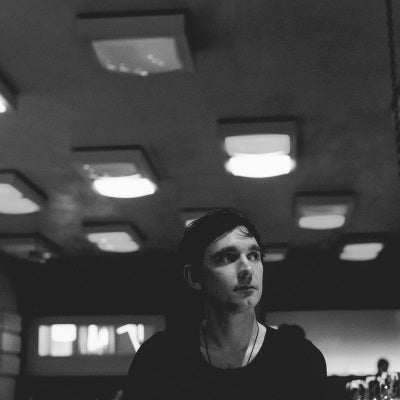 Peter Van Hoesen
Photo courtesy of Peter Van Hoesen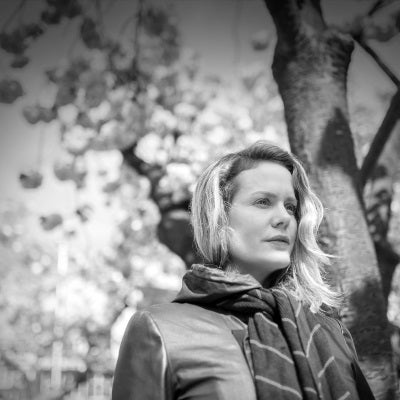 Heleen Blanken
Photo courtesy of Heleen Blanken
René Löwe & Pfadfinderei
THE P!EACE
Want to hit the ceiling, to change the perspective, then float in wide spheres and rushing wind, turning on my own axis in free fall, pictures like parachutes, the bass a compass, off the beaten paths through time and space, das Labland, as far as the eye can see, the legs are dangling in space, point A becomes B, cpatch, 3Dub…..just a frame on the big timeline. Click Render and always play.
René Löwe has long been an important figure in Berlin's electronic music scene, and his compositions helped to define the sound the city is so well known for. Under the name Vainqueur, Löwe's compositions such as "Lyot," released in 1992 on the Maurizio label, became a benchmark for the early 90's electronic sound. Löwe's influential work is a unique blend of minimalism with dense, textured, and spatial sounds.
Pfadfinderei is a Berlin-based international collective specializing in interdisciplinary concepts for visual music performances, multi-media installations, stage shows, and creative direction. Going beyond their initial roots of screen work, they apply immersive components to fuse light, video, and spatial design.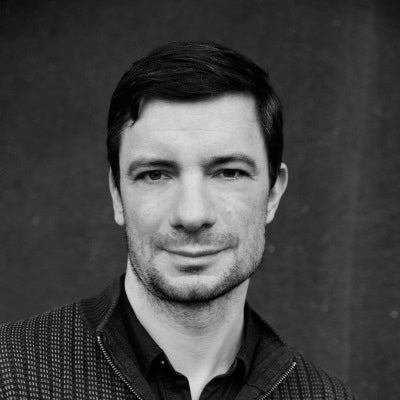 René Löwe
Photo courtesy of René Löwe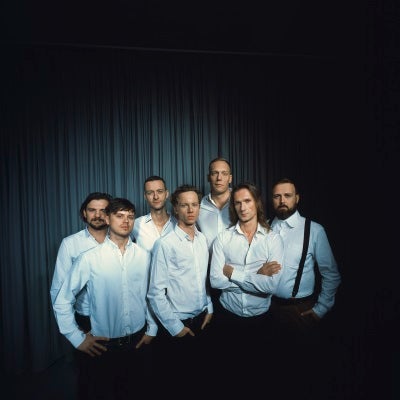 Pfadfinderei
Photo courtesy of Pfadfinderei
Tarik Barri and Thom Yorke
CITY RATS
Tarik Barri presents a composition created in collaboration with Thom Yorke. Inside the virtual 3D universe of Barri's self-programmed "Versum" software, all that is heard can be seen, and all that is seen may be heard. Looped and distorted video fragments of Yorke's singing are scattered all around, forming, moving, and changing patterns. Twitching and pulsating, they fill the space with unfamiliar sounds and sights.
The audience is taken on a flight exploring this universe in audiovisual surround, as their path determines the melodies and atmospheres they will encounter. The experience combines elements of music and cinema, but at its core is a different entity altogether.
Tarik Barri is an audiovisual composer in the sense that his compositions always concern the combination of audio and visuals. During his study in music and technology, he came to realize that the same type of programming he used to write musical applications could be used to create moving images. He has since focused on developing and using his real-time audiovisual software "Versum" for the sole purpose of discovering and expressing new kinds of aesthetics that can be found in the interrelations between seeing and hearing.
Thom Yorke's work, both as principal songwriter, singer, and multi-instrumentalist in Radiohead and as a solo artist, has placed him at the forefront of global contemporary music. Over time he's shown an enduring commitment to exploring the aesthetical and technical forefronts of his field.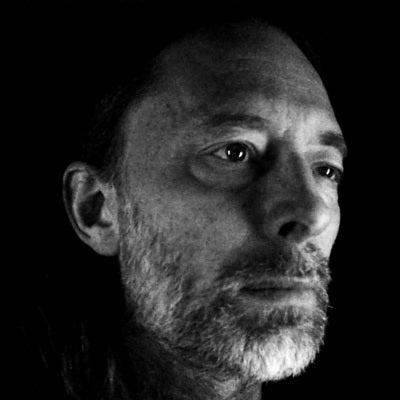 Thom Yorke
Photo courtesy of Thom Yorke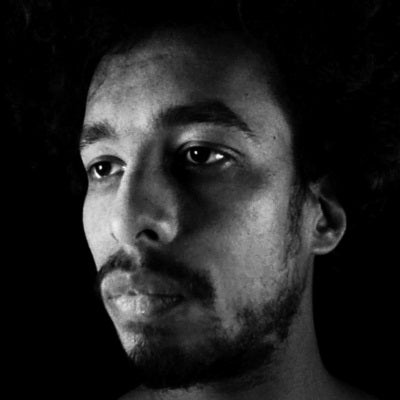 Tarik Barri
Photo courtesy of Tarik Barri
Partners
The ISM Hexadome US premiere is made possible through partnership with the Gray Area Foundation for the Arts, this project is funded by the Goethe Institut under the Year of German-American Friendship program.
Pfadfinderei is a Berlin-based international design studio specializing in creative motion graphics for concert performance, large-format media installations, and events. Going beyond screen work, they apply innovative ideas to fusing light, video, and spatial design.
By extending the original duties of a museum, the ZKM | Center for Art and Media Karlsruhe has become a cultural institution unique throughout the world. By combining archive and collections, exhibitions and events, research and production, the ZKM is able to aptly illustrate art's development in the twentieth and twenty-first centuries, not least due to the symposia and other platforms for theoretical discourse between philosophy, science, art, politics, and the economy that accompany its collection, exhibition, and research activities.
Norient, network for local and global sounds and media culture since 2002, is currently re-inventing itself to become a community-based platform that performs music research. It discusses and explores sounds, thoughts, and aesthetics of our time worldwide, multi-authored and multi-disciplinary, through podcasts, texts, photography, and experimental formats.
IRCAM, the Institute for Research and Coordination in Acoustics/Music directed by Frank Madlener, is one of the world's largest public research centers dedicated to both musical expression and scientific research. This unique location where artistic sensibilities collide with scientific and technological innovation brings together over 160 collaborators. Founded by Pierre Boulez, IRCAM is associated with the Centre Pompidou, under the tutelage of the French Ministry of Culture. The mixed STMS research lab (Sciences and Technologies for Music and Sound), housed by IRCAM, also benefits from the support of the CNRS and Sorbonne University.
Meyer Sound Laboratories manufacture self-powered loudspeakers, multichannel audio show control systems and electro acoustic architecture.
Squareball is a full service, digital product studio. Teams in Berlin and Manchester use leading tech and design methods to build solutions that make a difference.